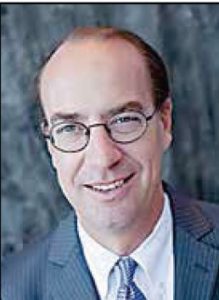 Volunteer of the Month – April 2019
Rob Anderson is a sole practitioner.
1. How did you first get involved in pro bono?
I pursued pro bono work to jump-start my work as a lawyer, which is actually my second career. After graduating from Pitt Law School 1990, I went on to get my CFA charter and spent 27 years as a wealth management advisor and private banker. After retiring from banking in 2017, I was looking for a new challenge, and I decided to return to my roots in the law. I was admitted to the Texas Bar in May of 2018, and I reached out to various pro bono organizations as an avenue to develop my network, learn the systems and processes of the justice system, and get some practical experience. Last September, I connected with Chris Reed-Brown, who was very encouraging, and I started receiving information about cases available through DVAP. From there, I jumped in with both feet.
2. Describe the most compelling pro bono case.
My most compelling case so far was a divorce that involved domestic violence. My client was quite shaken, and understandably very concerned that her spouse not learn her whereabouts. After consulting with the director of the women's shelter where the client was staying, we conducted our meetings there. This experience, and my further conversations with the center director, gave me much clearer insight into the many challenges that victims of domestic violence face, including that of obtaining much-needed legal services.
3. What impact has pro bono service had on your career?

Certainly, the pro bono work I've done over the last several months has provided me the practical legal experience I was looking for, and I am indebted to the mentors, Katherine Saldaña and Kristen Salas, for their patience and guidance as I worked through some of the first cases. The pro bono experience has also engendered in me a much deeper connection to the community I live in, and strengthened my desire to make that community better through my service.
4. What is the most unexpected benefit you have received from doing pro bono?
Seeing the needs of those less fortunate has given me a greater appreciation for the many blessings in my own life, and being able to help them in such a meaningful way has been immensely gratifying and inspiring.