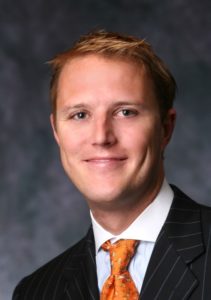 Volunteer of the Month – January 2018
Firm: Akin Gump Strauss Hauer & Feld LLP
1. How did you first get involved in pro bono?
As a first year associate, I had a strong relationship with Diane Couchman who led our pro bono efforts in the Dallas office. She was always extremely excited about pro bono opportunities and got me involved in DVAP and other pro bono work at the start of my career.
2. What types of cases have you accepted?
I have assisted or advised on consumer cases, landlord-tenant disputes, name changes, adoptions, divorces, immigration and estate planning matters.
3. Which clinics have you assisted with?
I have assisted with the MLK clinic, the landlord tenant clinic and the veteran's clinic.
4. Describe your most compelling pro bono case.
One of the first cases I took involved an elderly woman who worked for minimum wage at a senior home.  Notwithstanding her age, she showed up to work every day to help with the residents, cook their meals and assist with their care.  The owner and manager of the home turned out to be a scam artist that refused to pay her months of back wages.  We were able to successfully obtain judgment against him for all back wages, plus treble damages for his intentional misconduct.  Our client was obviously very thrilled with the outcome and the additional income, which she had not expected to receive, helped her enjoy her older years and it was a very satisfying case to be a part of.
5. Why do you do pro bono?
Not only do you get to help those in need and interact with people you might not otherwise serve as clients, but I think it broadens your sense of community, improves and expands your legal skills and allows you to take on cases outside your area of expertise.
6. What impact has pro bono service had on your career?
It has allowed me to put my business and employment skills and training to use helping serve the underprivileged community, as well as increased my visibility both inside and outside the firm.
7. What is the most unexpected benefit you have received from doing pro bono?
The clients that I have stayed in touch with over the years.  There are still folks who I receive holiday cards and updates on their life years after I have finished representing them.