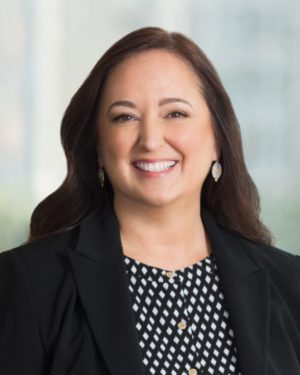 Volunteer of the Month – May 2018
Firm: Winstead PC
1. How did you first get involved in pro bono?
I first got involved when I was a summer clerk at a large firm in Dallas.  They took us on several different occasions to volunteer at intake clinics and it was a great way to see how those work and be introduced to pro bono work.
2. Describe your most compelling pro bono case.

My most compelling case was a guardianship involving two minors.  The paternal grandmother was raising the two children because the father, her son, had been killed in a car accident and the mother was in prison.  She was seeking to be appointed as their legal guardian so that she could enroll them in school, make medical decisions and all other things related to being a parent.   The father had not been listed on either birth certificate however, and because he was deceased paternity could not be established and the grandmother was having even more difficulty as a result.  The birth mother answered the petition from prison and was then released during the course of the case.  It lasted over a year and a half from start to finish but in the end the grandmother was successfully named as their guardian and they remained in her home to be raised by her.
3. Why do you do pro bono?
To be able to invest time to assist community members who may desperately need help but don't have the resources to obtain that help is a great feeling.  I think we are very fortunate as lawyers and are among the few who can make the legal system work for people who wouldn't otherwise have a way
4. What impact has pro bono service had on your career?
Participating in pro bono work has given me such a great sense of accomplishment and fulfillment, and also taught me more about the community in which we live and what an important role we can play if we are willing to donate our time.  I have also formed close relationships with attorneys and paralegals at my firm as we work on cases together.
5. What is the most unexpected benefit you have received from doing pro bono?
The most unexpected and appreciated benefit has been the ability to connect with people from different backgrounds and with different interests whom you may not otherwise meet.  Hearing their stories and then often staying in touch with them is amazing.  The touching expressions of gratitude you receive are an additional benefit as well.