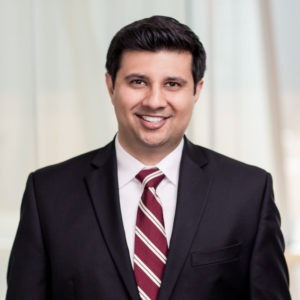 Volunteer of the Month – October 2018
Firm: Hunton Andrews Kurth LLP
Fawaz A. Bham is an associate with Hunton Andrews Kurth LLP. His practice focuses on the acquisition, development, leasing, and disposition of real estate nationwide.
1. What types of pro bono cases have you accepted?

As a transactional attorney, I have tried not to shy away from pro bono work that I am not too familiar with, which has allowed me to work on cases with Mosaic Family Services, answer calls at Dallas Legal Lines, discuss solutions for clients at the Housing Crisis Center Clinics, complete DACA applications with Catholic Charities, draft wills as part of DVAP's Wills Clinic, perform client intake at DVAP's Clinics and assist attorneys on those matters, and organize and lead Small Business Clinics with DVAP, Texas C-Bar, and other organizational partners in DFW. The experience that was the most out of my comfort zone was pursuing legal action to stop the promotion of intimate visual material (the "revenge porn statute") on behalf of a client who found herself a victim of her ex-boyfriend.
2. Describe your most compelling pro bono case initiative.
To date my most meaningful pro bono initiative has been to improve the quality of life for entrepreneurial low-income populations by providing pro bono law resources to microenterprises and non-profits. I have worked with DVAP, Texas C-Bar, and several other organizations to deliver microenterprise and non-profit clinics in the Dallas area. The aim of these clinics is to allow such entrepreneurs to have a one-on-one sit down with two attorneys from different fields of practice to engage in a productive discussion regarding legal issues the business or non-profit may be facing. Most emerging entrepreneurs are unable to retain the costly services of a lawyer for general advice and frequently forego seeking advice which often time leads to more complicated problems over time that could cause the entrepreneurs to eventually close shop. This initiative allows such entrepreneurs to use the volunteering attorneys as a sounding board to identify the "real" and "exact" issues the business or non-profit is facing, along with other relevant matters that the entrepreneur may not even have thought about.  The clinic provides tangible resources for entrepreneurs to take with them after the consult to help them answer even more questions (e.g., what to look for in your first lease, how to hire your first employee, etc.). Entrepreneurs walk away oriented to pursue further paid legal advice if needed, and empowered to pour their efforts into their ventures again.
3. Why do you do pro bono?
All of us work on important and complicated matters that yield small pivotal victories for our clients, but it only takes a limited interaction with a pro bono client to remember how fundamental and essential a pro bono client's needs can be and come to the realization of how your small drop in the pro bono service bucket ripples into an incredible wave of relief in their lives.  Pro bono helps you expand your scope of knowledge, helps you with business development, and helps you re-energize your legal soul. Pro bono is an indispensable part of being an amazing lawyer, period.
4. What impact has pro bono service had on your career?
Pro bono service has helped further my career development by providing me the opportunity to lead a variety of pro bono initiatives at Hunton Andrews Kurth LLP, to present to and engage with teams from various service organizations looking to augment their pro bono services, and expand my subject matter familiarity and expertise.
5. What is the most unexpected benefit you have received from doing pro bono?
The appreciation from clients months after you have concluded your assistance to them. Pro bono clients remember and it is always nice to know that there may be someone in the community sending positive vibes your way at any given point of time. Paying it forward is the only way we all move forward.