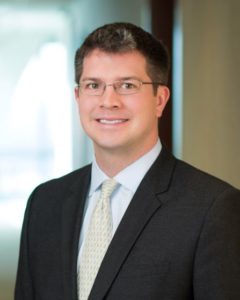 Volunteer of the Month – November 2018
Firm: Bracewell LLP
Clark Donat is a commercial litigation associate at Bracewell LLP.
1. Describe your most compelling pro bono case initiative.
One of the first pro bono matters I assisted with was to help a veteran from Iraq with his Permanent Physical Disability Retirement after said solider received a number of combat injuries.  After almost four years, with constant communications with the pro bono client and the Department of the Army, my client was officially retired due to his permanent physical disability in 2014.  After his retirement from the military, the client entered law school, due, in part, to his appreciation of my assistance and that of other attorneys at Bracewell LLP.  Having a client not only appreciate the work you perform on his behalf, but to also want to become a lawyer based upon that representation, made the work very rewarding.
2. Why do you do pro bono?
Pro bono is about helping those in need.  Access to the judicial system and to attorneys should be available no matter the financial ability of the client.  This is why partnering with Dallas Volunteer Attorney Program has been so rewarding.  From helping an individual get a simple divorce to preparing their estate documents means so much to these pro bono clients who otherwise would be unable to afford any attorney to assist.  I do pro bono for the people it helps the most—the clients.
3. What impact has pro bono service had on your career?
Pro bono service has allowed me to interact with clients on a much more personal level.  You get to know these people—from their family and possessions in divorce cases to a veteran's physical ailments and combat engagements.  These interactions with pro bono clients allow an opportunity to see genuine gratitude and to find solace in your decision to be a lawyer.  They, in essence, help reinforce my career choice on a daily basis.
4. What is the most unexpected benefit you have received from doing pro bono?
My most unexpected benefit has been a working knowledge of different parts of Dallas that I otherwise did not know much about.  For instance, as part of preparing estate documents, I have traveled all around Dallas.  This was to assist a number of older pro bono clients who are unable to come to Bracewell's Dallas office.  It was a pleasure to be welcomed in these individuals' homes and to assist them.