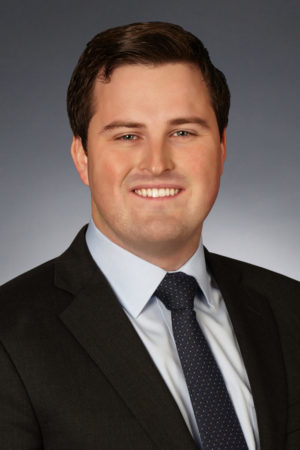 Volunteer of the Month – September 2019
Preston Moore is an associate in the Corporate Department of Weil, Gotshal & Manges LLP. He also served as Weil's 2019 Lend-a-Lawyer, spending two months working full-time at DVAP on pro bono matters.
1. How did you first get involved in pro bono?
My experience with pro bono legal services started during law school.  I worked in the UT Law Entrepreneurship and Community Development Clinic.   The clinic provided pro bono transactional business law representation to low-income entrepreneurs, nonprofit organizations, and community groups throughout Austin.  Now, as a licensed attorney, I look forward to continuing to provide pro bono legal service here in Dallas, especially through the DVAP program.
2. What type of cases have you accepted?
With DVAP, I have worked on family law cases, consumer disputes, and small business matters.  Most recently, I have worked with DVAP full-time as a Lend-a-Lawyer on secondment from Weil, Gotshal & Manges.
3. Which clinics have you assisted with?
I have mainly assisted with the East Clinic, but also have attended the South, West, and Veterans Clinics.
4. Why do you do pro bono?

I feel fortunate to have received training that allows me to help those in need of legal services, and I am grateful for the opportunity to give back by volunteering my time to pro bono matters.
5. What impact has pro bono service had on your career?
Pro bono service has given me the opportunity to work on matters and gain experience in areas of the law that would not have been possible for me in my billable practice.