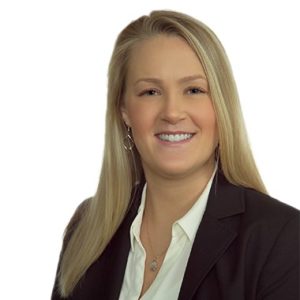 Volunteer of the Month – December 2019
Megan Ladriere is a Senior Associate at Baker Botts, L.L.P.
1. How did you first get involved in pro bono?
My firm, Baker Botts, actively encourages young associates to get involved with pro bono activities early in their career.  When I received the DVAP monthly emails on available cases, I took a simple divorce to get started!  DVAP made it very easy and I felt supported so that I was able to successfully represent my client in a new area of law for me.  I'm also on the DAYL Equal Access to Justice Committee, which plans and hosts an annual wine tasting each June to raise money for DVAP, as well as the DAYL Pro Bono Partners Committee that helps connect young lawyers with pro bono opportunities.  Being able to get others involved in pro bono and support DVAP has been so rewarding!
2. Describe your most compelling pro bono case. 
It's hard to choose one—I've loved them all and learned something new every time.  Mostly, I'm overwhelmed with the gratitude and appreciation from all my pro bono clients.  They are all so thankful to have someone walk them through a process that they are unfamiliar with and often intimidated by.
3. Why do you do pro bono? 
The legal system is so difficult to navigate if you aren't a lawyer!  It can be scary, confusing, and difficult, and I think helping others through that process is one of the best ways I can use my license to give back to the community.
4. What impact has pro bono service had on your career?
It's made me so appreciative of the privilege it is to practice law.  It can be a tough practice, but I'm filled with so much gratitude for my license and knowledge when I'm helping my pro bono clients who often have no idea where to even start.  Learning other areas of law beyond patent law is always an adventure too – keeps me on my toes!