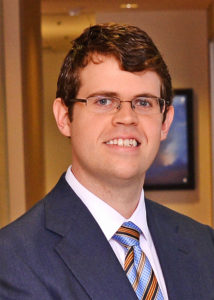 Volunteer of the Month – April 2020
William Craven is a Member at Cozen O'Connor.
1. How did you first get involved in pro bono? 
My first involvement with pro bono came after joining Cozen O'Connor in October 2015.  It is well known, both inside and outside of the firm, that Cozen enjoys a strong tradition of pro bono contributions to the community.  Cozen supports and encourages its attorneys to participate in pro bono matters, and immediately upon joining the Dallas office, I began working with other attorneys and independently to develop a pro bono practice.
2. Why do you do Pro Bono?  
At heart, pro bono is about giving back to those that are less fortunate.  Not everyone has the means to afford an attorney, and nobody (including myself) is perfect.  Often, my pro bono cases involve helping someone that made a mistake, or simply was in the wrong place at the wrong time, but wants to move forward and create a better life for themselves and their families.  They often need guidance on a legal procedure than can seem overwhelming.  Helping those during their most trying times get back on their feet and make the life they seek is the number one reason I do pro bono.
3. What impact has pro bono service had on your career? 
Pro bono service has had a significant impact on my career.  Most importantly, it gave me the first opportunity to select my own cases and run with them as my own.  Working a case by yourself as a young attorney can be stressful, but also, at times, the best way to learn.  Pro bono also gave me opportunities to get into a courtroom and increase my comfort level.  Those increased repetitions have greatly benefited me in my career.  I know my pro bono work has greatly improved by advocacy, writing, and courtroom skills.
4. What is the most unexpected benefit you have received from doing pro bono?
The most unexpected benefit of pro bono work for me has been helping combat the stereotype, associated by some, that practicing law is only about making money to the exclusion of all else.  Others outside of the field might have preconceived notions or stigmas about attorneys that are not always pleasant.  Engaging in pro bono work, and speaking to others in my network about that work, has allowed me to correct some of these misinformed opinions.  I have had the opportunity to show that we, as attorneys, can use the skills we worked hard to develop in law school, and continue to work hard to develop after graduation, to help others.