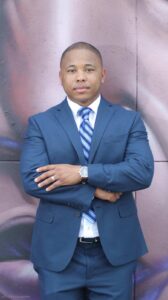 Volunteer of the Month – July 2020
Justin Bynum is a sole practitioner.
1. Describe your most compelling pro bono case.  
A woman came into my office for assistance with her case against her abusive ex-husband. As with many abusers, the ex-husband was attempting to use the child as a means to harass and control my client. The case is ongoing, but I believe having representation has helped my client to feel more secure about the case.
2. Why do you pro bono? 
Dr. Mary McLeod Bethune, the matriarch of my Alma Mater, Bethune Cookman University, taught all of her students that the purpose of our educations is to "Enter to Learn; Depart to Serve." Thus, I recognize that I have a duty to serve my community as an attorney.  Pro bono allows me to serve the most vulnerable members of our community. Many people look at legal services and think they are out of reach because legal representation can be quite expensive. Pro bono ensures that people's finances are not barriers to justice for them.
3. What impact has pro bono service had on your career? 
Pro bono has had a profound impact on my career particularly because I have met some amazing people through my practice. In addition to the clients that I get to help, I have met some really amazing attorneys through the DBA Entrepreneurs in Community Lawyering Program. Under the guidance of Saedra Pinkerton and Laura Benitez Geisler, I have learned more about being a better advocate for my all of my clients.
4. What is the most unexpected benefit you have received from doing pro bono?
The most unexpected benefit of doing pro bono has been the opportunity to work with other lawyers who are committed to public service. The Dallas Bar Association is full of like-minded lawyers who are willing to give of their time, energy, and resources to help those in need.