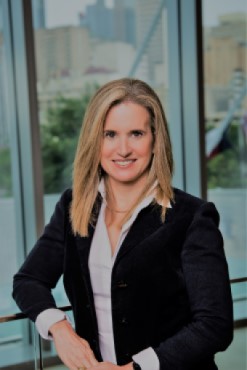 Volunteer of the Month – November 2020
Rachel Morgan is Vice President, Associate General Counsel at AT&T.
How did you first get involved with pro bono?
During my third year in law school, I took a seminar on juvenile justice and researched the treatment of juveniles held in detention centers throughout Texas.  It was such an eye opener for me to see how the justice system treats some of our most vulnerable people.  Once I graduated and began practicing, the firms offered terrific pro bono opportunities and inspired by what I seen in law school, I took advantage of those.
What types of cases have you accepted?
Mostly divorce and custody cases.  I tend to volunteer to take cases from clients I meet in the intake clinic.  Once I've met them in person, I often feel a connection that I want to continue.
Describe your most compelling pro bono case.
My most compelling case was a divorce and child custody case in which my client was seeking to divorce her husband, a middle school teacher who was having an affair with a student.  It was complicated by the criminal proceeding against the husband and because the teen was pregnant by him.
Because it is one of the best, most satisfying things I do as a lawyer.  It is a true "win-win" – the clients "win" because they get the assistance they need, but I feel like I "win" even more because I get incredible satisfaction out of helping them.
What impact has pro bono service had on your career?
It has reminded me, time and time again, of the positive aspects of being a lawyer.  Pro bono service has reinvigorated me when I have felt down or disconnected from my work, and it has introduced me to some fabulous people – both clients and legal professionals.