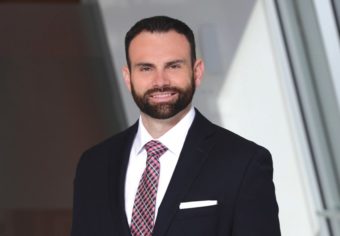 Volunteer of the Month – December 2021
Brad Smyer is a senior associate with Alston & Bird LLP.
Which clinics have you assisted with?
Clinics are one of my favorite ways to give back to the community when I don't have time to take on another pro bono case.  In addition to DVAP's general in-person and virtual clinics, I have participated in clinics to help veterans, reinstate driver's licenses, help with housing disputes, draft simple wills, and set up basic corporate entities.
Describe your most compelling pro bono case.
A few years ago, I was able to help a client who had suffered horrific domestic abuse to find safety and start a new life.  She later called me in tears to again thank me after moving into a new place of her own.  You never forget those moments.
A good pro bono case can stretch you as a lawyer and as a person.
What impact has pro bono service had on your career?
Pro bono has allowed me to gain incredible experience that makes me a better advocate in my daily practice.  I had already deposed an expert witness, argued hearings, and negotiated settlement agreements before I graduated from law school.  Every year since then, I have continued to seek pro bono matters that challenge or stretch me, and I have gained invaluable experiences and friendships along the way.
What is the most unexpected benefit you have received from doing pro bono?
A pro bono client once hugged me as we left the courtroom after completing her relatively simple matter.  As a lawyer who typically helps clients navigate their most challenging legal disputes and government enforcement actions, it felt good to know that I could help do something so simple that made such a profound impact in her life.