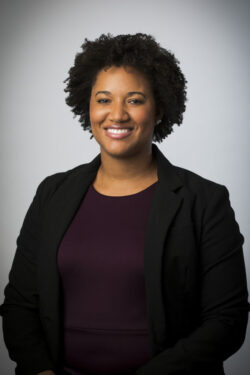 Volunteer of the Month – May 2023
Jenae Ward is an Associate at Weil, Gotshal, & Manges LLP. She also served as a Lend-a-Lawyer for two months in early 2023 at DVAP.
How did you first get involved with pro bono?
I first got involved with pro bono work while I was still in law school. As a member of the Law Students for Social Justice group at Vanderbilt Law School, I participated in and organized pro bono spring break trips where students worked at various non-profit, legal organizations under the supervision of licensed attorneys. Since becoming a licensed attorney, my commitment to pro bono work has continued, and my firm allows me to have a robust pro bono practice.
Describe your most compelling pro bono case.
While I have been involved in many interesting cases, generally the pro bono cases that are most compelling to me are the ones where I am helping an individual get or recover access to something that people usually take for granted, like recovering their driver's license.
Growing up, my parents instilled in me the values of giving back and servant leadership. As lawyers, we have a special set of skills, and doing pro bono work not only allows me to use my legal skills and gain invaluable experience, but it also allows me to serve my community and give back by helping those who would not otherwise be able to afford legal services.
What impact has pro bono service had on your career?
My pro bono work has allowed me to take on lead roles in cases early in my career and further develop my legal skills.
What is the most unexpected benefit you have received from doing pro bono?
As a Dallas transplant, by doing pro bono work and being involved in various pro bono committees, I have been able to build a community and gain a network of like-minded individuals.