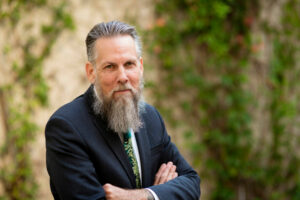 Volunteer of the Month – June 2023
Jon McCurley is a sole practitioner.
How did you first get involved with pro bono?
I went to UNT Dallas College of Law, and they had a pro bono hour requirement for graduation. DVAP has a "Pro Bono Spring Break" that would allow me to get 40 pro bono hours in one week. I jumped at the opportunity and still work with DVAP years later.
Describe your most compelling pro bono case.
During COVID, Dallas had several rent relief programs. My client was not sophisticated and had not applied for rent relief, which would allow a 60-day stay of the eviction proceeding. In addition, the landlord needed to provide a witness that could testify. The Judge allowed a five-day reset for the landlord to provide a witness. There was a rent relief table in the lobby of the court, so my client could apply for rent relief, and the Judge gave him a 60-day stay on his eviction to get the rental payments. Although simple, this case benefited a client who needed to be made aware of the help he could get.
Saedra Pinkerton said I have to. But also it is fun! And I have met the best people, other attorneys, and clients.
What impact has pro bono service had on your career?
I have a great network of people who volunteer. The relationships give me more resources when I take a case out of my wheelhouse.
What is the most unexpected benefit you have received from doing pro bono?
I don't know if this is just one, but getting to help the community and help other attorneys when they are just getting into the pro bono game. Even mundane cases can be impactful to our clients. I have an affection for Driver's License Restoration cases; they can't catch you riding dirty if you are Not Riding Dirty.